We are pleased to welcome our new Rector!
The Rev. Rebekah Hatch has been selected as the new parish priest for St. Alban's Episcopal Church, Simsbury, according to Bob Moody, St. Alban's Senior Warden. Rev. Hatch's selection concludes a national search that has been underway since January. "I am pleased to announce that the Rev. Ian Douglas, Bishop Diocesan of Connecticut, has approved the letter of agreement with our new part-time priest, the Rev. Rebekah Hatch, thus concluding our search activities over these last nine months. She will be joining us on Nov. 1st." Moody said.
A native of Georgia, Rev. Hatch was ordained in 2004 after receiving her Master's in Divinity from Virginia Theological Seminary in Alexandria, Virginia. She brings a strong background in Youth Ministries and programs, experience as an associate rector, as a school chaplain, a teacher of adult education classes, and a working knowledge of the administrative aspects of large congregations.
Following the announcement, Rev. Hatch said she is looking forward to meeting individual members of the parish and to assuming her new role at St. Alban's. "It's like a Christmas present to me, "she said, "a present waiting to be opened."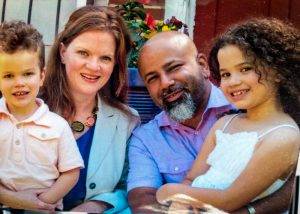 According to the senior warden, the search process was faithfully shepherded by St. Alban's Transition Team led by Betsy Shelley. The team also included the following members: Bob Moody, Geoff Mather, Betty Maniatty, Jeannie Crabtree, Olav Leite and Jenny Holland. The team met every week from January to August to develop a first-class web site, to create attractive promotional material, develop interview questions and the necessary forms to uniformly ensure consistency throughout this most important assignment.
"I would also like to thank the Vestry for joining with the Transition Team to spend an evening with Rebekah to ask questions in an effort to get to know her on a personal level and listen to her presentation style as she conducted an Evening Prayer service," Moody said.
"Her interaction as chaplain at several large Episcopal schools will be a real plus for St. Alban's as we explore opportunities to attract young families to our congregation," Moody said.
Rev. Hatch and her family recently moved to West Hartford from Atlanta, Georgia. Her husband, Tony, is a Sociologist, teaching in the Science in Society program at Wesleyan University in Middletown. The couple has a daughter, Ruth, in 4th grade and a son, Elias, in kindergarten.
St. Alban's Episcopal Church is located at 197 Bushy Hill Road, Simsbury. The church sits on 12 partially wooded acres and welcomes visitors for walking, trail running, or otherwise enjoying the land. All are welcome to worship with us at our Sunday service at 9 a.m. More information about St. Alban's is available by visiting our website www.StAlbansSimsbury.org. or by calling the church office at 860-658-0406.